Liliane Lijn and John Vallerga: Sunstar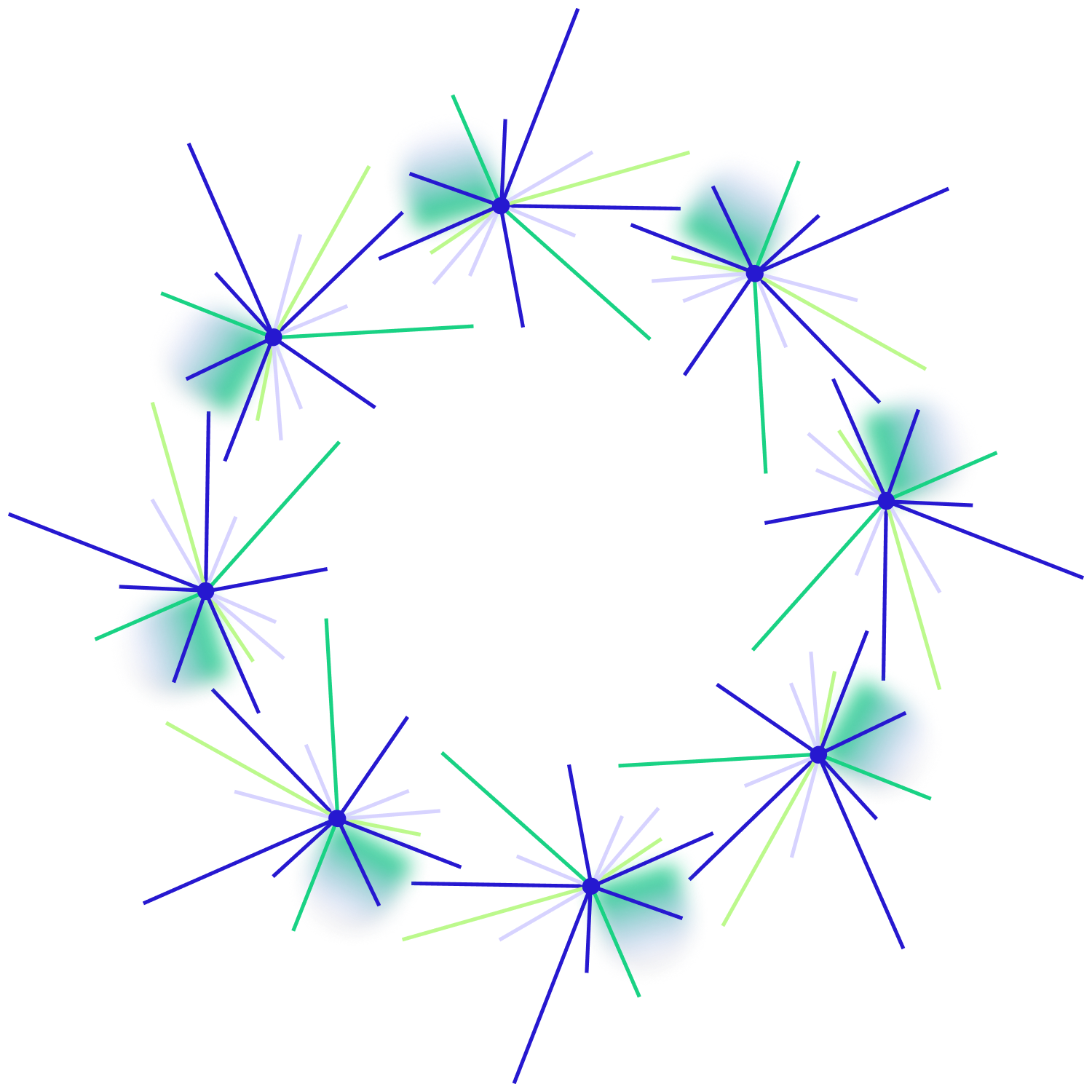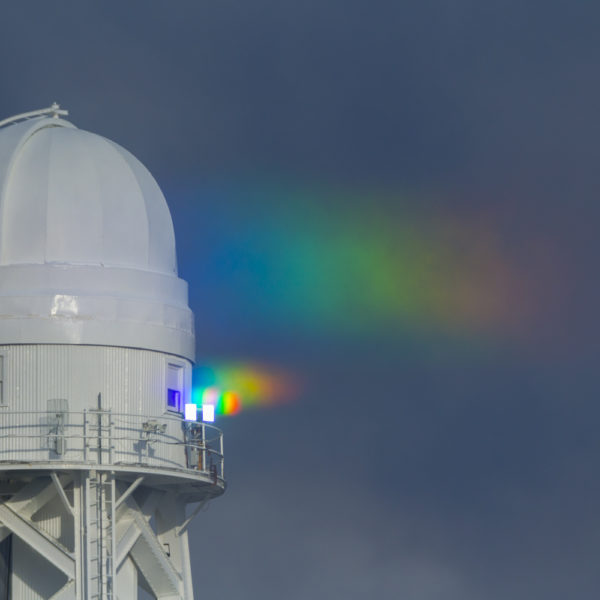 Sunstar is an art-science collaboration by Liliane Lijn and astrophysicist John Vallerga. Composed of six prisms to form an array, the artwork takes incoming sunlight and refracts it, bending the light and spreading it into a spectrum, i.e., all the colors of the rainbow. It sits near the top of Mount Wilson Observatory's 150-foot Solar Telescope Tower. With motion controls, the array can be remotely directed to project the spectrum to a specific point in the Los Angeles Basin. An observer below will see an intense point of light in a single wavelength, shining like a brilliant, colored jewel from the ridgeline of Mount Wilson, some 5,800 feet above in the San Gabriel Mountains. The prism array can be moved to change the color of light an observer sees, or the observer can walk in one direction or another to change the color. In this case, an observer in Pasadena, for example, is actually walking across a giant color spectrum 250-yards long. This spectrum becomes proportionally wider the further one travels from the prism. Although very bright, the single wavelength of sunlight that Sunstar refracts is perfectly safe to observe from the ground due to the great distances required to experience its phenomenon.
Please note: Sunstar cannot be seen from the site of its installation on Mount Wilson; it can only be seen from the Los Angeles Basin. During the 2022 Fulcrum Festival, Sunstar's beam will point in the direction of festival events that are located within the prism's range of visibility.
—SCHEDULE OF VIEWING LOCATIONS—
DAILY HOURS: 11AM-SUNSET
August 29, 2022 – September 14, 2022
Pasadena City College Center for the Arts
September 15, 2022 – September 21, 2022
Memorial Park, Pasadena
September 23, 2022 – September 25, 2022
Memorial Park, Pasadena
About the Artists
Liliane Lijn
Liliane Lijn (1939) was born in New York, studied in Paris, and lives in London. Internationally exhibited since the 1960s, her works are held in numerous collections including Tate London (UK), British Museum (UK), the Victoria and Albert Museum (UK), and FNAC (France). Lijn works across media—including kinetic sculpture, film, text, performance, and collage—to explore language, mythology, and the relationship between light and matter. In 2005, Lijn was the ACE NASA, Leonardo Network Artist-in-Residence at the Space Sciences Laboratory, University of California, Berkeley, where she began a collaboration with astronomer John Vallerga, which resulted in their Sunstar project. Lijn's recent solo and group exhibitions have been held at MoMA (USA), Centre Pompidou (France), and the Museum of Fine Art, Bern (Switzerland). She is represented by Rodeo Gallery  (UK/Greece).
John Vallerga
John Vallerga is an astrophysicist at Space Sciences Laboratory, University of California, Berkeley. His expertise is in the development of very sensitive photon detectors for NASA space astronomy missions. His NASA project participation includes work on the Hubble Space Telescope and the New Horizons Mission, which is currently moving past Pluto and on its way through the Kuiper Belt.